AQICN.org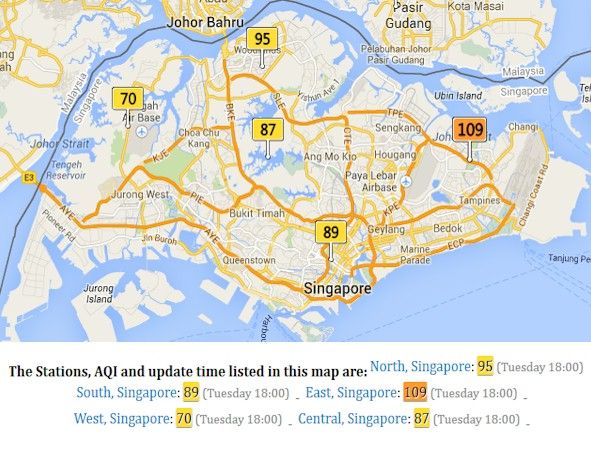 [Click on images to enlarge]
Link
Posted by

singaporenewsalternative
at Tuesday, March 11, 2014

WSJ Blog, 11 Mar 2014
SINGAPORE—At a busy border post on the Singaporean end of a causeway linking the island to Malaysia, immigration officials have learned that lightning can strike twice.
Less than two months after a Malaysian motorist breached security at Singapore's Woodlands immigration checkpoint, another Malaysian driver blitzed past the same border crossing over the weekend.
The latest incident has stung immigration officials, who came under scrutiny for the second time this year for what government leaders and citizens are calling "inadequate" security measures and even complacency.
Full story
Related:
DPM Teo "chides" ICA but it's not good enough - The Online Citizen
Posted by

singaporenewsalternative
at Tuesday, March 11, 2014

Hardwarezone Forum, 10 Mar 2014
Full story
Posted by

singaporenewsalternative
at Monday, March 10, 2014

Hardwarezone Forum, 8 Mar 2014
Police on Saturday evening arrested a 65-year-old man who drove through Woodlands Checkpoint while undergoing customs checks earlier, at about 4pm.
Police said the Singapore-registered Mercedes Benz arriving from Malaysia cleared immigration checks.
But while undergoing customs checks, the man drove off and crashed through the security barrier -- which was activated -- and entered Singapore. Police said an officer was hurt while trying to stop the driver.
Full story
Yours Truly Singapore, 7 Mar 2014
Mr Tharman then claimed that few surveys measure living costs of ordinary residents and went on to cite the one from the Lee Kuan Yew School of Public Policy as the one that does. But the Lee Kuan Yew School of Public Policy survey is quite a useless survey because it is almost never used by anyone outside Singapore. It is almost like North Korean statistics useful only within North Korea.
I refer too to the 6 Mar 2014 Straits Times report "S'pore the costliest city? That's rich" [4]. In that report, Straits Times claimed that the EIU study included fees at international schools as part of overall cost of living. However, the EIU website [2] says: the final three subcategories of:
• Housing rents
• International schools, health & sports
• Business trip costs
are not included in the index calculation. Hence, Straits Times is wrong to say that international school fees are included as part of overall cost of living since it is excluded from the index calculation.
Full story
Related:
DPM THARMAN: EIU'S RECENT COST OF LIVING REPORT DOESN'T APPLY TO LOCALS - The Real Singapore
The Star Online, 8 Mar 2014
Singaporeans will likely huddle around their TV sets in June to watch World Cup soccer – but only if they pay, once again, a fee higher than anyone else on earth.
To cynics, this is merely in keeping with their newly declared status of belonging to the world's most expensive city.
In 2010, the cable companies bid so high for the telecast rights that they charged fans S$70.50 (RM181) to watch.
Negotiations are still on, but the costs are likely to be at least as high.
This World Cup TV cost is probably the best way to describe how ordinary Singaporean lives are affected.
That we are a top high-cost place has been known to us for some time, but few Singaporeans – if any – had imagined we would be Number One.
Full story