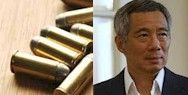 The Real Singapore, 5 Nov 2013
A number of projectiles and bullet casings were sent by mail to PM Lee from a man in Taiwan but staff working in the mailroom discovered the package before it got to PM Lee.
They took fingerprints off the projectiles and envelope and sent them back to the Taiwan government.
The package was received sometime in February and it is understood that a man in Taiwan has now been arrested over the incident.
Full story