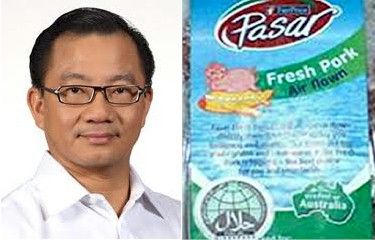 Yahoo! New Singapore, 27 Jan 2014
NTUC FairPrice warns the public that an image being circulated online showing packaged pork meat carrying the "Halal" label is false and harkens back to a 2007 email hoax.
In a statement on Monday, Seah Kian Peng, chief executive officer of NTUC FairPrice, said the original packaging of Pasar Fresh Pork does not carry the halal sticker from the Islamic Religious Council of Singapore (MUIS).
He described the image of tampered packaging of the supermarket chain's house brand as a "mischievous hoax" that is both "insensitive" and "done in poor taste".
Full story