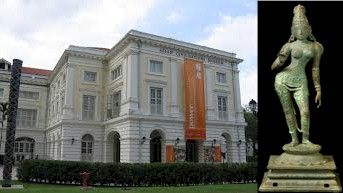 The Hindu, 6 Dec 2013
A criminal complaint filed by the Manhattan District Attorney in the Supreme Court of New York has put to rest doubts, if any, about the illicit trade of antiquities stolen from Tamil Nadu.
The document filed in the court said Subhash Chandra Kapoor, U.S.-based antiquities dealer extradited to India and now lodged in a Chennai prison, sold stolen bronze sculptures not only to a museum in Australia but also in Singapore.
The complaint says Kapoor and Aaron Freedman, long-time manager of Kapoor's gallery, have dealt in stolen antiquities for more than 15 years. It specifically accuses Freedman of arranging to ship stolen antiquities, including two idols of Nataraja and three idols of goddess Uma to and out of the U.S. Freedman also arranged for false provenance certificates for illicit property, contacted prospective buyers and laundered stolen antiquities.
The new fact to emerge is that Kapoor and Freedman were also involved in the sale of another stolen idol to the
Asian Civilisations Museum (ACM) in Singapore
. According to the complaint, a 1,000-year bronze idol of Uma Parmeshvari was stolen from a temple in Ariyalur district of Tamil Nadu and was illicitly transported to the U.S. In February 2007, Kapoor sold the sculpture to the ACM for US $650,000 and shipped it to Singapore.
The Hindu, which has been following this case, wrote to the museum authorities in Singapore in July, enquiring about the provenance of the Uma Parameshvari sculpture. However, they did not reply. The Hindu contacted the museum again to get its response to the recent developments. Until this story went to print, the museum did not reply to the email that followed a telephone conversation.
Full story