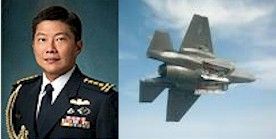 The Diplomat, 18 Oct 2013
In a wide-ranging interview with the Defense Writers Group in late July, General Herbert J. "Hawk" Carlisle was asked about Singapore's interest in the Lockheed-Martin F-35 Lightning II Joint Strike Fighter (JSF) program and if an initial sale had been made. He had this to say:
"I talked to their CDF (Singapore's Chief of Defence Force Lieutenant-General Ng) Chee Meng. I was just in Singapore. Singapore's decided to buy the B model, the VSTOL variant to begin with. But I don't know where they're at in putting it into their budget.
I know that's a decision that's been made and that's why they're part of the program, but I don't know where they're at in putting that in the budget"
Notoriously secretive about its military matters, defense officials in Singapore have neither confirmed nor denied the reports about its interest in the F-35B. However, Defence Minister Ng Eng Hen had previously gone on record a number of times to say that Singapore is evaluating the F-35 for the Republic of Singapore Air Force's (RSAF) next fighter, but that no decision has been made. General Carlisle's remarks are the first indication of the direction Singapore's Ministry of Defence will be taking with regards to an initial purchase.
Full story
Related: