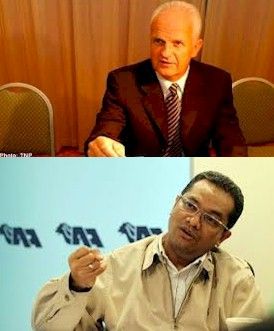 Goal.com, 18 Oct 2013
The Lions coach dismissed any notion of race being a factor in his team's selection and made it clear he only saw his players as Singaporeans and nothing more.
Singapore coach Bernd Stange has insisted that he picks his team solely based on the fact that they are Singaporean, and not upon the racial group the player belonged to.
It was an all-Singaporean-born starting eleven that was fielded in Tuesday's evening 2-1 win over Syria, an uncommon scene after having a number of naturalised players such as Aleksandar Duric and Mustafic Fahrudin take to the field in a Lions jersey over the years.
"I want to make it absolutely clear - and it's my personal opinion - that we have only Singaporeans," Stange said firmly.
Stange went on to reiterate that he did not differentiate the players in any way, except from the fact that they were one team and represented Singapore.
"I do know that they are Singaporean, they have the passport and this is one nation," Stange emphasised.
The issue of racial participation in local football was recently brought up by Football Association of Singapore president Zainudin Nordin in a television interview, where he stated his belief that talent in other races, apart from the Malay population, has to be tapped into.
Full story