Fstoppers.com, 22 Sep 2013
Mark Joseph Solis
, a student attending the University of Philippines, won a $1000 prize and round trip tickets to Chile and Brazil for his winning photo in the "Smiles for the World" competition. However, the photo is not his, he stole it right off Flickr. Further investigation has revealed that Solis has won numerous competitions over the last 3 years using other photos he never took, but rather stole from others online.
The competition took place on September 18th and the owner of the photo, Gregory John Smith, discovered the stolen photo after being tipped off by "emails from all over the world." He called it out in the comments of the
news story covering the contest
.
After being caught Solis has been quick to apologize coming out publicly and even sending a letter today to Smith. But this is not his first time doing it. In fact, he used the same photo to win another contest, United Nations International Year of Water Photo Contest as you can see here on
their website announcement
(note the owner of the photo at the bottom). Here's
another example of a photo he submitted to a contest
in 2008, yet again stolen straight from Flickr.
And again.
Full story
Related:
Biography
Mark Joseph Tajo Solis is a BA Political Science senior at the College of Social Sciences and Philosophy, University of the Philippines-Diliman, where he is a
Diwa ng Magdalo Foundation and Wilfredo Keng Foundation scholar.
From 2010 to 2011, he studied as a JASSO Fellow at the Kyushu University in Japan, took advanced courses under the Comparative Studies of Politics and Administration in Asia Graduate Program of the Faculty of Law, and served as a Teaching Assistant at the Faculty of Social and Cultural Studies. His research interests revolve around decentralization and urbanization studies, peace and conflict studies, environmental politics, and comparative public administration.
Prior to his fellowship, Mark served as a regional intern in 2009 at the World Youth Alliance Asia Pacific, where he handled youth forums and social outreach initiatives, and then joined the ABS-CBN Broadcasting Corporation as a social media desk cadet in the summer of 2010. A year after, he received the JENESYS Student Ambassadorial Grant from the Japanese Government-Ministry of Foreign Affairs and was also awarded a debate scholarship to Thailand by the Open Society Institute and International Debate Education Association. This year, he was named a Tunza Eco-generation Regional Ambassador for Southeast Asia by the United National Environment Programme.
Mark Joseph Solis is also a member of the Global Youth Anti-Corruption Network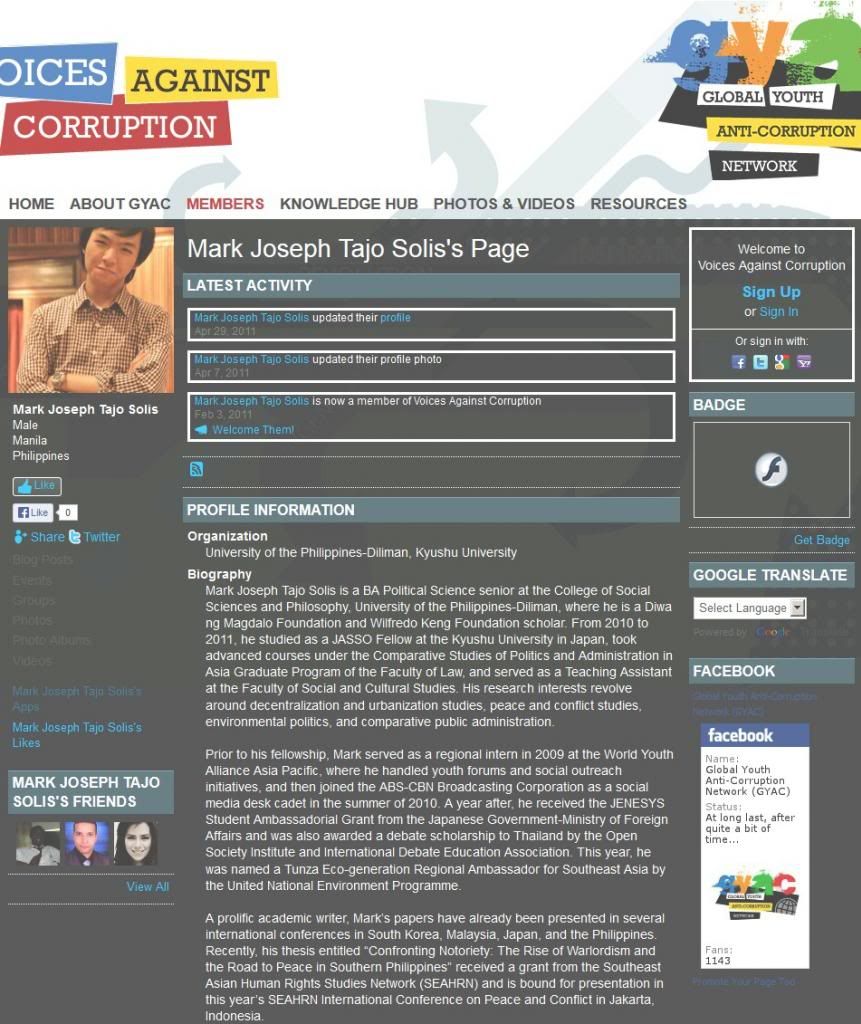 Link