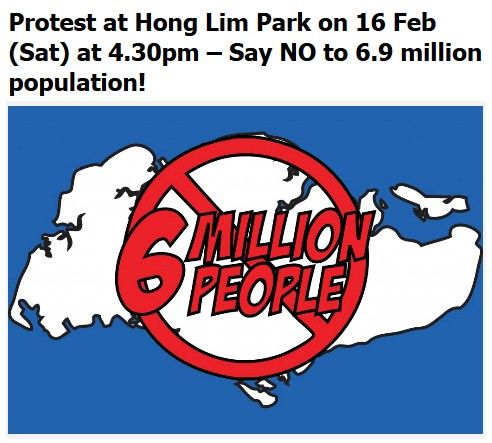 Reuters, 6 Feb 2013
(Reuters) - Singapore is to hold a rare anti-government demonstration against plans for a dramatic increase in immigration that would boost the island's population by as much as 30 percent by 2030.
Discontent is growing in affluent Singapore over a rising number of foreigners blamed for strains on infrastructure, ballooning housing costs and transportation headaches in a country slightly smaller than New York City.
Protest organizer Gilbert Goh said he hoped to attract 1,000 people to the February 16 event at Speakers' Corner, a designated park exempt from strict government controls over assemblies, speeches and outdoor protests.
"Let us send a strong signal to our government that we don't want 6.9 million people living here by 2030,"
Goh said.
Full story
Related:
Singapore plans rare protest as population debate rages - Yahoo! News
Singapore plans rare protest as population debate rages - Malaysia Star
Singaporeans Plan Protest as Parliament Debates Population Boost - Bloomberg