Khaw Boon Wan: Singaporeans should not be traumatised over $1million HDB flat prices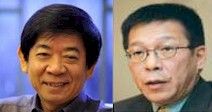 XIN MSN News, 2 Jan 2013
SINGAPORE: Resale prices for HDB flats reached another record high in the 4th quarter of 2012. Flash estimates showed HDB's Resale Price Index rose by 2.5 per cent over the previous quarter.
The index provides information on the general price movements in the public residential market.
The index for the full quarter and more detailed public housing data for the 4th Quarter of last year will be released on January 25.
Full story
Related: